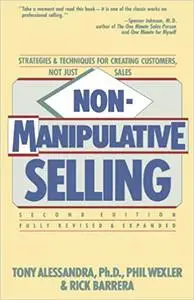 Dr. Tony Alessandra, Phil Wexler, Rick Barrera, "Non-Manipulative Selling, 2nd Edition"
English | 1992 | ISBN: 0671764489 | 276 pages | PDF | 29.9 MB
WHEN YOU HEAR the word salesperson, what adjectives come to mind? Typical responses to that question are "aggressive," "overbearing," "pushy." Their common denominator is always negativity, even from sales and marketing people themselves. If many professional salespeople feel negative about their colleagues, how much more likely are people outside the profession to take a negative.
Salespeople are among the most highly paid professionals in American society, and they are very important to the economy. Why, then, do so few people respect sales as a career? Employee turnover is higher in sales than in most occupations. Ask most college students if they want to be salespeople and the answer is a resounding no!