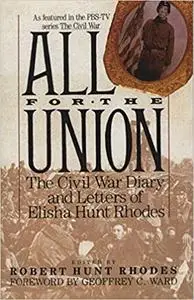 Elisha Hunt Rhodes, Robert Hunt Rhodes, Geoffrey C. Ward, "All for the Union: The Civil War Diary & Letters of Elisha Hunt Rhodes"
English | 1992 | ISBN: 0679738282, 0517584271 | 248 pages | EPUB | 6.9 MB
All for the Union is the eloquent and moving diary of Elisha Hunt Rhodes, featured throughout Ken Burns' PBS documentary The Civil War. Rhodes enlisted into the Union Army as a private in 1861 and left it four years later as a twenty-three-year-old colonel after fighting hard and honorably in battles from Bull Run to Appomattox. Anyone who heard these diaries excerpted in The Civil War will recognize his accounts of those campaigns, which remain outstanding for their clarity and detail. Most of all, Rhodes's words reveal the motivation of a common Yankee foot soldier, an otherwise ordinary young man who endured the rigors of combat and exhausting marches, short rations, fear, and homesickness for a salary of $13 a month and the satisfaction of giving "all for the union."