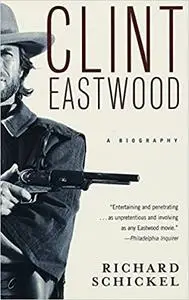 Richard Schickel, "Clint Eastwood: A Biography"
English | ISBN: 0679749918 | | 576 pages | EPUB, MOBI | 2 MB + 1218 KB
"Authoritative . . . highly nuanced . . . gives the reader a palpable sense of Mr. Eastwood's career."
–The New York Times
From the moment The Man With No Name first fixed the screen with his murderous squint, from the first time audiences heard Dirty Harry Callahan growl "Make my day," Clint Eastwood has been an icon of American manhood in all its coolness and ferocity. But that icon is also an actor of surprising subtlety, a filmmaker of vast intelligence and originality–and an intensely private man who eludes the stereotypes with which his fans and critics try to label him.
In this in-depth biography, the distinguished film critic Richard Schickel talks with Eastwood's family, friends, and colleagues–and, above all, with his notoriously reticent subject–to produce a portrait more astute and revealing than any we have ever had.
Following Eastwood from his unstable childhood through his turbulent love affairs, assessing films from A Fistful of Dollars to the Oscar-winning The Unforgiven, and locating the subversive streak of rage and solitude that runs through all his work, Clint Eastwood is candid and endlessly fascinating, an unerring closeup of one of our brightest stars.
"Exhilarating . . . substantial, insightful, and right."
–Newsday
Read more