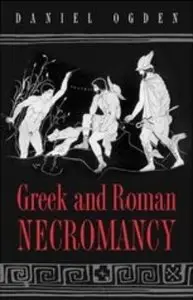 Greek and Roman Necromancy By Daniel Ogden
Publisher: Princeton University Press 2001 | 368 Pages | ISBN: 069100904X | PDF | 43 MB
In classical antiquity, there was much interest in necromancy--the consultation of the dead for divination. People could seek knowledge from the dead by sleeping on tombs, visiting oracles, and attempting to reanimate corpses and skulls. Ranging over many of the lands in which Greek and Roman civilizations flourished, including Egypt, from the Greek archaic period through the late Roman empire, this book is the first comprehensive survey of the subject ever published in any language. It is rare and refreshing to read a book of the high caliber of the one under review. The scope is breathtaking, the sources cited are thorough and wide-ranging, and the author¹s own biases are either nonexistent or kept completely under control. Furthermore, the subject matter is so provocative and the writer's style is so direct and fast paced that it is difficult to put the book down once begun. . . . Whether one sits down to read the book cover to cover or comes to it as a resource tool, there will be no disappointment.
NO PASSWORD



!!!No Mirrors below, please! Follow Rules!