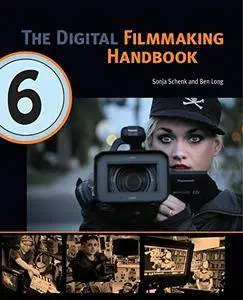 The Digital Filmmaking Handbook, Sixth Edition: Digital version by Sonja Schenk
English | 21 Aug. 2017 | ISBN: 0692782117 | ASIN: B0751QNNHB | 991 Pages | AZW3 | 11.32 MB
Filmmaking involves much more than just buying a camera and a computer and The Digital Filmmaking Handbook covers everything you need to know, whether you're making a feature-length movie, a series of webisodes, a VR project, or even your first short film. This one-stop digital filmmaking resource will guide you from your initial idea to getting your finished project "in the can." It will show you how to create shots and effects that are rarely associated with low-budget productions.
What's New?
Web-based distribution has finally cracked open the field and there are really no limits to the type of films you can make—from long-arc television to webisodic content to traditional feature films, it's easier than ever to find an audience for your movie.
Virtual Realty is making serious headway into the entertainment industry, so we've added special sections about VR productions throughout the book.
The rate of technological innovation in digital filmmaking is astounding: more and better digital cinema cameras, accessible 4K production and post, lots of new lenses, and computer-controlled camera rigging from sliders to robotic jib arms to drones.
It's a brave new world out there and we're here to help you navigate it.
Digital video has come to mean all things to all people and the types of projects that are being made by indie filmmakers are more varied than ever.
So why stop at a single film? Go ahead, you know, Make Your Movies.
The Digital Filmmaking Handbook is a top-rated bestseller.
It's been in print for 17 years. It offers 600 pages of
regularly-updated information on all aspects of filmmaking.
(Some people buy this book for the glossary alone.)