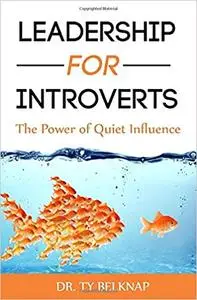 Leadership for Introverts: The Power of Quiet Influence by Ty Belknap
English | May 17, 2018 | ISBN: 0692968725 | 291 pages | azw3 | 0,3 MB
Half the people in the world are introverts, and it's time to put your Introvert Power to great use! Promote yourself the Introvert way, lead meetings that will work for both extroverts and introverts and embrace the Power of Quiet Influence.Some of the most famous people in history were introverts: Gandhi, Abraham Lincoln, Nikola Tesla, Isaac Newton, Charles Darwin and Jesus Christ are just a few in this long list.Dr. Ty Belknap has had a remarkable life. He was born in a small town in Oregon, found himself living on the streets of Seattle as a teenager, wound up in Hawaii surfing and SCUBA diving and then reluctantly entered the IT world in his early twenties.He started out selling computers at companies such as Sears and Office Depot, working from entry level to management before he became a Network Engineer for Compaq and Microsoft where he also quickly moved to management level. But Ty has always been an entrepreneur, so in 2002 he started a successful web design and SEO business (before it was even called search engine optimization). He quickly learned that leading for other companies is vastly different from leading your own company.In Leadership for Introverts, Dr. Ty shows how to plan for success the introvert way. Define your introverted why and what. Develop your vision and put your plan into action. Learn how to optimize your time for strategic solitude so you can recharge throughout the day. Learn why embracing conflict will help propel your leadership capabilities, and understand the great power of change.Leadership also delves into the differences between introverts and extroverts, and shows ways to bring out the best of both for a successful team.Whether you run an organization, lead a team, have your own small business, or are a parent (parents are team leaders also) you will find great information on how to maximize your introvert skills in this book.