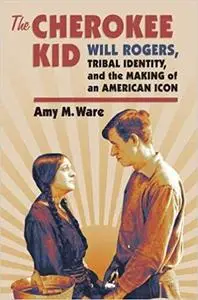 Amy M. Ware, "The Cherokee Kid: Will Rogers, Tribal Identity, and the Making of an American Icon (Culture America "
English | ISBN: 0700621008 | 2015 | 328 pages | EPUB | 7 MB
Early in the twentieth century, the political humorist Will Rogers was arguably the most famous cowboy in America. And though most in his vast audience didn't know it, he was also the most famous Indian of his time. Those who know of Rogers's Cherokee heritage and upbringing tend to minimize its importance, or to imagine that Rogers himself did so—notwithstanding his avowal in interviews: "I'm a Cherokee and they're the finest Indians in the World." The truth is, throughout his adult life and his work the Oklahoma cowboy made much of his American Indian background. And in doing so, as Amy Ware suggests in this book, he made Cherokee artistry a fundamental part of American popular culture.
Rogers, whose father was a prominent and wealthy Cherokee politician and former Confederate slaveholder, was born into the Paint Clan in the town of Oolagah in 1879 and raised in the Cooweescoowee District of the Cherokee Nation. Ware maps out this milieu, illuminating the familial and social networks, as well as the Cherokee ranching practices, educational institutions, popular publications and heated political debates that so firmly grounded Rogers in the culture of the Cherokee. Through his early career, from Wild West and vaudeville performer to Ziegfeld Follies headliner in the late 1910s, she reveals how Rogers embodied the seemingly conflicting roles of cowboy and Indian, in effect enacting the blending of these identities in his art. Rogers's work in the film industry also reflected complex notions of American Indian identity and history, as Ware demonstrates in her reading of the clearest examples, including
Read more