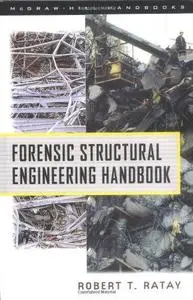 Forensic structural engineering handbook By Robert Ratay
2000 | 808 Pages | ISBN: 0070526672 | PDF | 14 MB
Begin a lucrative career as a forensic structural engineer Looking into the causes of structural deficiencies and failures of buildings, bridges, and other constructed facilities, rendering opinions, and testifying in judicial proceedings, has become a field of professional practice all its own. Forensic Structural Engineering Handbook, edited by Robert T. Ratay, tells you how to become proficient in this area, providing you with procedures, lists of what to watch out for, how to deal with clients, and more. In this only comprehensive guide to the subject, well-known experts explain everything you need to know, from design and construction codes, standards and regulations and technical and legal steps, to engineering analysis of structural defects and failures in steel, concrete, timber and masonry structures, stone and precast cladding, foundations and retaining walls, and temporary structures.