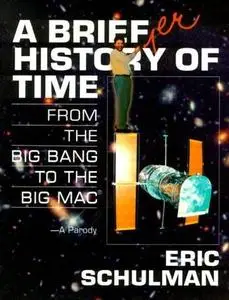 Eric Schulman, «A Briefer History of Time: From The Big Bang to The Big Mac»
St. Martin's Press | ISBN 0716733897 | 1st Edition (May 1999) | PDF | 1 Mb | 171 Pages
Book Info:
Provides a highly irreverent and scientifically entertaining overview of some of the most important cosmic milestones since the beginning of time.



Reviews:

A Brief History of "A Briefer History…", June 20, 2000
Reviewer: A reader

It is a very rare occurance for a book to come out that will make you laugh out loud as well as teach you something. It is even rarer for a book to be funnier and funnier as the reader has more and more education. From personal adds to and from chloroplasts to a "Jerry Springer"-ish script on the rise of sexual reporduction. Great book, although (and this is few and far between) some of the science seems, to this reader, to be a little suspect (such as the author's contention that everything possible will happen in the universe). All in all, a great book and a great value.

–––––––––––––––––––––––––––––-

Monty Python meets Einstein, June 1, 1999
Reviewer: A reader

With a real gift for both science and humor, the author takes us from the Big Bang to The Internet. Many of the short sketches remind me of either Monty Python or the Farsign Theater (anyone who can describe the "birth of Netscape to the theme of the Beverly hillbillies is truely warped, or gifted.) Careful where you read this book or you will find yourself laughing out loud in airplanes, the subway, ect. After many presents that were ok-this was one of the best gifts that I ever got. An excellent purchase and a keeper. PS-Get Your Library to Order onw so you don't have to lend yours

–––––––––––––––––––––––––––––-

Funny and informative – the perfect package!, May 12, 1999
Reviewer: A reader

This book will appeal to scientists and non-scientists alike. The only requirement is a sense of humor – the excessively serious-minded need not apply. The glossary is one of the best parts – and I can't think of a single other book about which such a statement could be made.