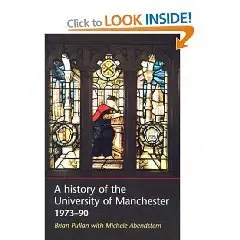 A History of the University of Manchester, 1973-90
Publisher: Manchester University Press | ISBN: 071906242X | edition 2004 | PDF | 352 pages | 1,6 mb
This is the second volume of a history of the University of Manchester since 1951. It spans seventeen critical years in which public funding was contracting, student grants were diminishing, instructions from the government and the University Grants Commission were multiplying, and universities feared for their reputation in the public eye. It provides a frank account of the University's struggle against these difficulties and its efforts to prove the value of university education to society and the economy. This volume describes and analyzes not only academic developments and changes in the structure and finances of the University, but the opinions and social and political lives of the staff and their students as well. The books will appeal to past and present staff of the University and its alumni, and to anyone interested in the debates surrounding higher education in the late twentieth century.