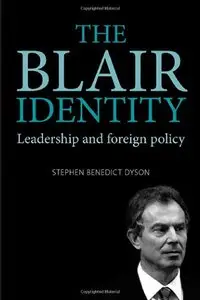 The Blair Identity: Leadership and Foreign Policy by Stephen Benedict Dyson
English | 2009 | ISBN: 0719079993 | 160 pages | PDF | 0,5 MB
Why did Tony Blair take Britain to war with Iraq? Because, this book argues, he was following the core political beliefs and style – the Blair identity – manifest and consistent throughout his decade in power. Kosovo, Sierra Leone, Afghanistan, and finally Iraq were wars to which Blair was drawn due to his black-and-white framing of the world, his overwhelming confidence that he could shape events, and his tightly-held, presidential style of government.
In this new application of political psychology to the British prime ministership, Dyson analyzes every answer Blair gave to a foreign policy question in the House of Commons during his decade in power in order to develop a portrait of the prime minister as decision maker. Drawing upon original interviews with major political, diplomatic, and military figures at the top of British politics, Dyson reconstructs Blair's wars, tracing his personal influence on British foreign policy and international politics during his tumultuous tenure.
The book is essential for those interested in international affairs, the British prime ministership, and the influence of personality on politics.
My nickname -
interes