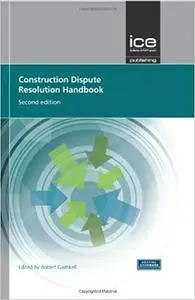 Robert Gaitskell, "Construction Dispute Resolution Handbook"
English | 2011 | ISBN: 0727741454 | PDF | pages: 185 | 1.6 mb
"Construction Dispute Resolution Handbook" explains procedures that will avoid disputes arising and provides step-by-step advice to reaching a satisfactory resolution of any disputes that do occur. There are seven forms of construction dispute resolution in regular use - arbitration, adjudication, litigation, mediation, dispute boards, expert determination and early neutral evaluation - the differences between these are explained with practical help and guidance on making effective use of the whole range of procedures available when a dispute arises. This handbook provides lawyers, engineers and other construction professionals with guidance on formulating a strategy to minimise the time and costs expended on getting a decision or settlement, with the ultimate aim of resolving a dispute satisfactorily and benefitting clients. Model arbitration notices, adjudication referral notices, mediation papers, pleadings and other useful documents and checklists, as well as addresses for key bodies, and information on how to get internet access to legal cases are included. Written for both the practitioner and the student, in an easy-to-read style that gives straightforward accounts of how to deal with construction disputes at all stages.