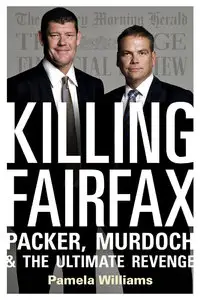 Killing Fairfax: Packer, Murdoch and the Ultimate Revenge by Pamela Williams
English | ISBN: 0732297664 | 2013 | EPUB | 352 pages | 5,6 MB
KILLING FAIRFAX: PACKER, MURDOCH AND THE ULTIMATE REVENGE - an incisive, hard-hitting and utterly compelling expose of media, powerful mates and multimillion-dollar deals. KILLING FAIRFAX tells the inside story of the decline of hallowed media company Fairfax, publisher of THE SYDNEY MORNING HERALD, THE AGE and THE AUSTRALIAN FINANCIAL REVIEW. Covering a decade and a half of lost opportunity and mismanagement, this story culminates in Fairfax?s catastrophic loss of the classified advertising market to the internet, as the famous ?rivers of gold? run dry. The savage twist in the tale is that the new companies dominating the online advertising market were not just hungry internet start-ups - but one by one, each of the new leaders in the field came under the direct influence of two traditional media tycoons, James Packer and Lachlan Murdoch, both intent on expanding their own online businesses. With exclusive and unprecedented access to both Murdoch and Packer, as well as an extraordinary line-up of Australian business leaders and influential powerbrokers, this is a powerful insiders? story of the deals, the power plays and the machinations behind the influential media organisation?s decline. A riveting, never-before-told tale of Shakespearean dimensions, KILLING FAIRFAX is an unputdownable account of corporate ambition and arrogance; fathers and sons; old media and new media; and brutal business dealings. KILLING FAIRFAX is destined for the top of the bestseller list given Australians? fascination with the media and powerful media families. Pamela Williams? impeccable research, revelatory writing style and ability to get key players to speak openly and on the record makes this a book with a broad readership. It is the ultimate Father?s Day gift but, more importantly, it adds to our knowledge of an important chapter in our country?s newspaper history.
My nickname -
interes