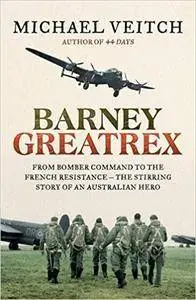 Michael Veitch, "Barney Greatrex: From Bomber Command To The French Resistance"
ISBN: 073363723X | 2017 | EPUB | 297 pages | 4 MB
The incredible untold World War II story of Australian hero BARNEY GREATREX - from Bomber Command to French Resistance fighter.
A high school and university cadet in Sydney, Barney Greatrex signed up for Bomber Command in 1941, keen to get straight into the very centre of the Allied counterattack. The RAF's strategic bombing missions faced the deadliest and most dangerous fighting imaginable as they attempted to break the will of the German people and destroy its industrial might. Bombing Germany night after night, they faced continual enemy fighter attacks and anti-aircraft fire - death or capture by the Nazis loomed large. Very few survived more than 20 missions, and it was on his 20th mission, in 1944, that Barney's luck finally ran out: he was shot down over occupied France.
But Greatrex's war was far from over. Rescued by the French Resistance, he seized the opportunity to carry on fighting and joined his local Maquis. Alongside the men and women of the Vosges, he took part in the often savage and always dangerous operations against the occupying German forces to assist the Allies in the liberation of France.
Barney was awarded the French Legion of Honour after the war, and his unique World War II story, surviving two of its most dangerous and diverse battlefronts, is told here for the first time by acclaimed bestselling author Michael Veitch.