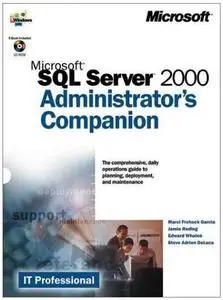 Microsoft SQL Server 2000 Administrator's Companion (With CD-ROM) by Marcilina Garcia, Jamie Reding, Edward Whalen, Steve Adrien DeLuca
Publisher: Microsoft Press; Bk&CD-Rom edition (January 15, 2000) | ISBN: 0735610517 | CHM | 30,7 Mb | 1200 pages
Probably the best book I own (and I own a lot). I have minimal experiance with SQL server, and I'm now an SQL admin by default at my company. Recently we required an upgrade to SQL 2000 to replicate with a client and I bought this book. For the first week I used it as a referenc to answer any questions that come up. Now I'm reading the thing pretty much straight through (skipping some of the beginning chapters and some clustering info which I don't need yet). I have yet to read a paragraph where the authors aren't absolutely clear. I feel like I'm becoming an expert at this stuff, and I'm sure it will be a good exam prep book. Yes it's over 1000 pages, but it is as readable as any book I've ever picked up (and this stuff usually puts me to sleep). I'd recommend it for all experience levels. The upgrade chapter was light, but I know why after having done one.
Download from Ftp2Share