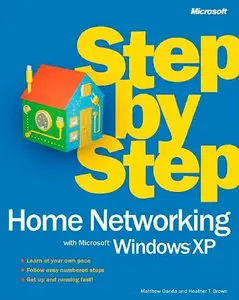 Home Networking with Microsoft Windows XP Step by Step
Publisher: Microsoft Press | pages: 192 | 2001 | ISBN: 0735614350 | CHM | 12 mb
Teach yourself just what you need to know about setting up a home network with the Windows XP operating system. With STEP BY STEP, you can work through every lesson in the book or choose your own best starting point. The book uses easy-to-follow instructions and friendly, non-intimidating language to explain how to set up and use a simple Windows XP-based home server. Walk through the steps for creating and configuring a network that connects all the intelligent devices in your home or home-based business-everything from PCs, printers, and scanners to WebTV(r), digital cameras, and the coming wave of "smart" home appliances. STEP BY STEP is the easy way to introduce yourself to Windows XP home networking features-and build your mastery with everyday tasks-one step at a time!