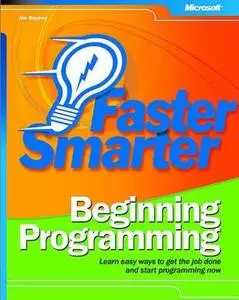 Faster Smarter Beginning Programming by Jim Buyens
Publisher: Microsoft Press; 1 edition (November 13, 2002) | ISBN: 0735617805 | CHM | 2,6 Mb | 352 pages
Learn faster, smarter ways to write your first software application! Create your first application for Microsoft Windows or the Web with Faster Smarter Beginning Programming. This guide uses a practical, learn-by-doing approach that makes learning to write code with Microsoft Visual Basic .NET quick, easy, concrete, and fun. The exercises feature concise explanations, step-by-step instructions, and visual examples that help you create real functionality right away. Topics include learning basic language elements, designing Windows Forms and Web Forms, running and debugging applications, accessing data, and other essentials.
Download from Ftp2Share