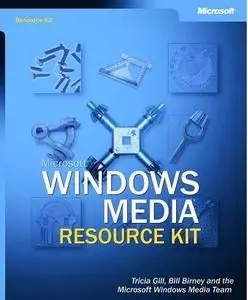 Microsoft Windows Media Resource Kit by Microsoft Corporation, Tricia Gill, Bill Birney, Microsoft Corporation
Publisher: Microsoft Press; Bk&CD-Rom edition (February 26, 2003) | ISBN-10: 0735618070 | CHM | 27,5 Mb | 512 pages
The definitive reference for planning and deploying Windows Media technologies on the Microsoft Windows .NET Server family — straight from the source. This official Microsoft RESOURCE KIT provides in-depth technical guidance plus must-have tools for IT professionals who need to implement streaming media solutions for corporate communications, training and education, e-commerce, commercial broadcast, and other uses. The book provides a detailed deployment road map that covers all related Windows Media components, including Windows Media Encoder, Windows Media Services, Windows Media Player, and Microsoft Producer, as well as cache/proxy servers, routers, and other third-party networking software and hardware. In addition to providing expert installation advice, the authors — members of Microsoft's Windows Media team — share their insights on how to build custom streaming solutions using samples from the Windows Media software development kit (SDK). They've also packed the RESOURCE KIT CD-ROM with essential tools, including Windows Media products such as the encoder and a load simulator; test content including audio and video files; SDK code samples; and scenario-based topologies, plans, and checklists.
Download from Ftp2Share