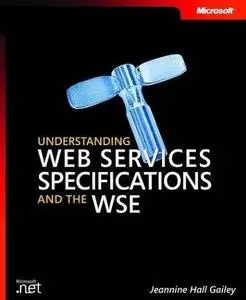 Understanding Web Services Specifications and the WSE by Jeannine Hall Gailey, Jeannine Gailey
Publisher: Microsoft Press; 1 edition (October 29, 2003) | ISBN: 0735619131 | CHM | 2,34 Mb | 304 pages
Gain insight into some of the advanced Web service specifications that have been proposed to enhance the functionality of SOAP-based messaging while maintaining the interoperability of Web service applications. This essential guide details the support in Microsoft Web Services Enhancements (WSE) 2.0 for these specifications, which include WS-Security, WS-Policy, WS-Trust, WS-SecureConversation, WS-Attachments and DIME. You'll learn how to develop .NET Web services and client applications that leverage WSE functionalities to implement secure Web services, with inline code samples derived from a Visual Studio .NET-based Web service solution that you can download from this site. Written by a Web services expert, this book is the developer's essential guide to understanding and implementing advanced Web services for Microsoft .NET.
Download from Ftp2Share