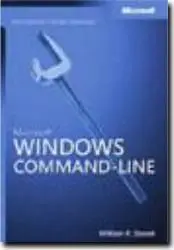 Microsoft Windows Command-Line Administrator's Pocket Consultant (Pro - Administrator's PC) by William R. Stanek
Publisher: Microsoft Press (April 28, 2004) | ISBN: 0735620385 | CHM | 1,3 Mb | 416 pages
This practical, pocket-sized reference delivers ready answers for using Microsoft Windows command-line tools to manage multiple clients and servers. It's packed with hundreds of examples that show you how to run, use, schedule, and script Windows commands, support tools, and Resource Kit tools — without ever touching the GUI. Written by a well-known author of more than two dozen computer books — and featuring easy-to-read tables, lists, and step-by step instructions — this POCKET CONSULANT delivers fast, accurate information on the spot.
After download rename file to *.chm
Download from Ftp2Share