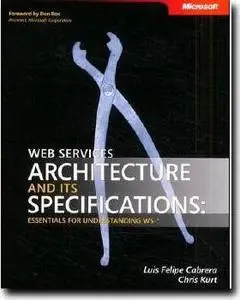 Web Services Architecture and Its Specifications: Essentials for Understanding WS– (Pro-Developer ) by Luis-Felipe Cabrera, Chris Kurt
Publisher: Microsoft Press; Bk&CD-Rom edition (March 9, 2005) | ISBN: 0735621624 | CHM | 0,8 Mb | 192 pages
The web is a marvelous way to exchange information. But it is very visually oriented. You browse to a site and read what you find. Alternatively you can download a filek, but this file is dependent on what the originator thinks you need.
XML is of course the answer. XML allows the sender and receiver of information to use the existing packet switching web communication channels and the existing servers to handle the transmission of data between machines.
XML is the core structure of a group of messaging commands. This combines with the SOAP protocol to define how messages are to be formatted using XML formats. Combining XML with SOAP and other standards results in the general concept of Web Services.
This book discusses the complete set of standards that make up web services. It is a reference format book, not a tutorial. It is, as the title says, on the architecture and specifications
After download rename file to *.chm
Download from Ftp2Share