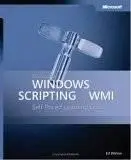 Microsoft Windows Scripting with WMI: Self-Paced Learning Guide|Microsoft Press|26 October, 2005|ISBN: 0735622310
The definitive self-paced tutorial for WMI scripting, featuring 140 script samples, timesaving scripting tools, and 500+ bonus scripts on the CD.
Get the inside track on how to write system administration scripts with Windows Management Instrumentation (WMI), straight from Microsoft scripting experts. This practical learning guide teaches how to use WMI scripting techniques to gain control over your Microsoft Windows–based, IIS-based, and Microsoft Exchange Server–based environments—all at your own pace.
Build practical skills on everything from understanding the ins and outs of WMI and producing your first WMI Script to writing advanced WMI scripts that automate the management of systems, network services, files, printers, the registry, network services, and more. The companion CD features the complete eBook, 140 sample scripts, and timesaving scripting tools, plus more than 500 bonus scripts!
@
amazon
Download:
rapidshare.de/files/29629125/0735622310.part1.rar 9.54 MB
rapidshare.de/files/29630479/0735622310.part2.rar 9.54 MB
rapidshare.de/files/29631215/0735622310.part3.rar 9.54 MB
rapidshare.de/files/29632506/0735622310.part4.rar 4.38 MB
Password:
ebooksdigest.blogspot.com