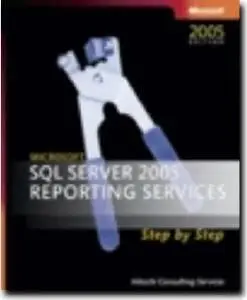 Microsoft SQL Server(TM) 2005 Reporting Services Step by Step by Stacia Misner, Hitachi Consulting
Publisher: Microsoft Press; Bk&CD-Rom edition (May 24, 2006) | ISBN: 0735622507 | PDF | 6,5 Mb | 576 pages
The popular STEP BY STEP approach provides hands-on guidance to beginning-level and new-to-SQL Server 2005 programmers. A sequential, learn-by-doing tutorial, this book covers key features and techniques of Reporting Services to help programmers harness the full power of SQL Server 2005.
Key Book Benefits:
-Delivers step-by-step instruction about how to install, enable, envision, create, and share reports based on SQL Server 2005 data stores.
-Provides hands-on exercises that develop proficiency quickly — based on data stores and examples provided on the enclosed CD.
-Features expertise from Hitachi Consulting, which creates specialized SQL Server-based data solutions for corporate customers.
-STEP BY STEP is ideal for anyone with a basic understanding of SQL Server.
Download from Ftp2Share