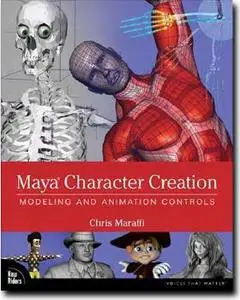 Maya Character Creation: Modeling and Animation Controls, First Edition by Chris Maraffi
Publisher: New Riders Press; 1st edition (September 5, 2003) | ISBN: 0735713448 | CHM | 10 Mb | 408 pages
A unique, in-depth approach to creating realistic characters in Maya. Maya Character Creation: Modeling and Animation Controls' author, Chris Maraffi, has expertise in the field and in the classroom that translates to the knowledge and solid teaching skills needed to make this book a "must-have"!
The current trend in computer graphics is greater organic realism. Many of thetop-grossing movies today, such as Spiderman, Lord of the Rings, Jurassic Park 3 ,and Star Wars Episode 2, all feature realistic 3D characters. There is a majorneed in the 3D community for educational material that demonstrates detailedtechniques for achieving this organic reality. Maya is one of the main packagesused on such cutting-edge films, and has an established toolset for creatingbelievable 3D characters. Maya Character Creation: Modeling and Animation Controls is designed to take you through the process of designing, modeling, and setting up animation controls for complex 3D characters. The concepts, techniques, and Maya tools used foreach step in the process are presented in each chapter, followed by manyhands-on exercises. NURBS, polygon, and subdivision surface modelingtechniques are shown for creating the character's skin, and skeleton-basedanimation controls are covered in detail. You will learn how a character'sskin should deform when the skeletal joints and muscles move. AdvancedMEL scripted animation controls are also covered extensively.
Download from Rapidshare
or
Download from Depositfiles