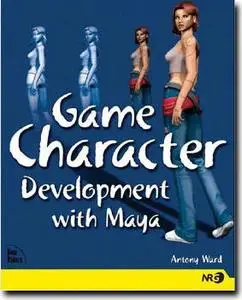 Game Character Development with Maya (New Riders Games) by Antony Ward
Publisher: New Riders Games; Bk&CD-Rom edition (November 22, 2004) | ISBN: 073571438X | CHM | 54,5 Mb | 832 pages
If you thought Angelina Jolie was responsible for Lara Croft's curves, think again! Long before the Hollywood actress brought the Tomb Raider heroine to life, Alias' 3D modeling software Maya was used to create the lovely Lara; Ms. Jolie simply filled in her curves! When you're ready to start creating equally compelling characters of your own, you need this comprehensive volume! In these pages, gaming-industry veteran Antony Ward uses a combination of informative narrative, hands-on tutorials, and a slew of illustrations and screen shots to show you how to use Maya to address the most complex element of game creation-developing great characters! As you follow along, Antony uses the development of two diverse characters-a female figure and a fantastical character with outrageous proportions, wings, and a demon-like face-to demonstrate the techniques involved in modeling detailing, optimizing, texturing, rigging, binding, and animating characters with Maya. The companion CD includes lesson files, scripts, an automatic rigging tool, demo software, and more!
Download from Rapidshare
or
Download from Depositfiles