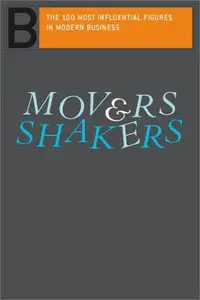 Movers & Shakers: The 100 Most Influential Figures In Modern Business (Ultimate Business Library) by Editors Of Perseus Publishing
Publisher: Basic Books | Number Of Pages: 384 | Publication Date: 2003-11-12 | ISBN-10: 0738209147 | PDF | 23 Mb
Fascinating portraits of 100 men and women who have left an indelible mark on the business landscape.
Ultimately, business is about people-inventors, visionaries, courageous leaders who forge new paths. Movers and Shakers brings to life 100 men and women, who by virtue of their chutzpah and determination built companies and industries, created new ways of doing business, or revealed underlying truths about the art and science of management. From the robber barons of the early, brawny years of the twentieth century to the "new economy" techno-wizards at the beginning of the twenty-first, Movers and Shakers presents brief sketches of the gurus and giants who have made their indelible marks on the business landscape. Featuring biographies of thinkers and writers, including George Eastman, Andy Grove, Mary Parker Follett, Charles Handy, and Peter Drucker, this book reveals the defining moments that changed business history.