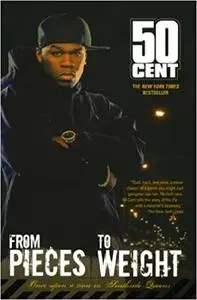 50 Cent, Kris Ex, "From Pieces to Weight: Once Upon a Time in Southside Queens"
English | 2006 | ISBN: 0743488040 | 240 pages | EPUB | 0.3 MB
In the New York Times bestseller From Pieces to Weight, rap mogul 50 Cent, a.k.a. Curtis Jackson, lifts the veil on his complicated life, from the murder of his mother when he was twelve, to hustling on the streets; from the assassination attempt that nearly finished him to his meteoric rise to the top of hip hop royalty.
This violent and introspective memoir reveals not only 50 Cent's story but also the story of a generation of youth faced with hard choices and very few options. It is a tale of sacrifice, transformation, and redemption, but also one of hope, determination, and the power of self. Told in 50's unique voice, the narrative drips with the raw insight, street wisdom, and his struggle to survive at all costs—and behold the riches of the American Dream.