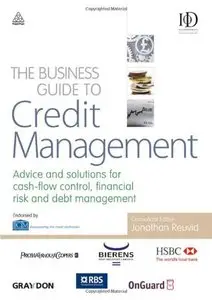 The Business Guide to Credit Management: Advice and solutions for cash-flow control, financial risk and debt management by Jonathan Reuvid
English | 2010 | ISBN: 0749459786, 0749459794 | 228 pages | PDF | 4,4 MB
The Business Guide to Credit Management offers new insights into cash management, payment flows, debt collection and asset-based finance, pring practical advice and commentary for those charged with managing, coordinating and protecting their company's finances, it pres valuable practical information and commentary on: good business practice; improving cash flow; the debt recovery and collections industry; innovation and success in managing credit; customer management; and credit management for export markets.
The book examines the credit management cycle from the perspectives of the suppliers, the customers and the banks, explaining the interrelationships between all three groups and offering best-practice models that can help to smooth the financial path, particularly when credit flows may appear to be drying up. Whether pring an explanation of government support through various guarantee schemes, or assessing the growing role of credit ratings and debt collection, this new title is the essntial handbook for anyone looking to control costs, manage cash flow and protect capital.