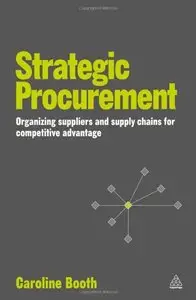 Caroline Booth, "Strategic Procurement: Organizing Suppliers and Supply Chains for Competitive Advantage"
English | 2010 | ISBN: 0749460229 | 192 pages | PDF | 0,7 MB
In today's challenging environment a company's success is determined by its ability to utilize all the assets at its disposal. One asset often neglected by the boardroom is supplier expenditure, yet most organizations spend at least half their costs with their supplier – often for business-critical goods and services.
Effective procurement delivers rich rewards where P&L impact is relatively painless and immediate, benefit/cost ratios of 10 to 1 are realistic ambitions, in-year payback commonplace and top-line growth and cost reduction are both achievable.
This book is for executives who recognize this opportunity and as such covers all aspects of strategic procurement, including: the role of both the top team and the organization as a whole in procurement; understanding the importance of procurement in delivering your customer value proposition; optimizing supply chains; reducing cost and creating value; making yourself important to the suppliers you need; sustaining procurement improvement and keeping it on the business agenda.
Showing you how to cut costs while improving your business and the importance of effective supplier relationships, Strategic Procurement offers real understanding of the true worth of procurement in the boardroom.