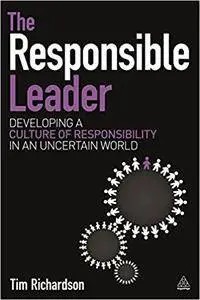 Tim Richardson, "The Responsible Leader: Developing a Culture of Responsibility in an Uncertain World"
English | ISBN: 0749471816, 0749479000 | 2016 | 216 pages | PDF | 2 MB
Responsible leadership involves making business decisions that not only affect brand trust and corporate reputation, but also impact all stakeholders, including employees, clients and the environment.
This book explores the role of responsible leadership in an organization and offers a framework for how to incorporate it into company culture. It challenges common-held beliefs established from traditional management methods and provides the practical steps needed to achieve organizational change.
The Responsible Leader presents a fresh vision for leadership and business success and includes in-depth case studies and examples from companies such as Starbucks, BP, HSBC, PwC, and BodyShop.