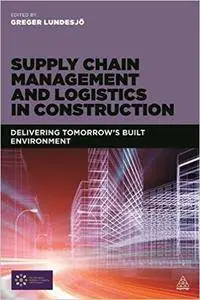 Greger Lundesjo, "Supply Chain Management and Logistics in Construction: Delivering Tomorrow's Built Environment"
English | ISBN: 0749472421, 0749479337 | 2015 | 288 pages | PDF | 4 MB
"Logistics" usually describes the movement of people, goods, or products from one place to another; however, logistics in the construction industry describes movement around the construction/project site.
Greger Lundesjo and his team of leading experts examine the expanding role of logistics in construction, offering practical guidance on: arrangements with suppliers, the use of returnable packaging, off-site manufacture and assembly, and IT systems used to manage the supply chain and logistics operations, such as delivery and warehouse management systems. They also consider aspects of the contractual relationships between client, developer, main contractor and lower-tier contractors, all of which have an impact on how the supply chain is managed.
With case studies and insights from international companies, this book illustrates how logistics and supply chain management improves overall construction project performance and efficiency, and is ideal for construction managers, as well as researchers and students in the field.