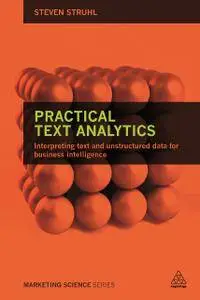 Practical Text Analytics: Interpreting Text and Unstructured Data for Business Intelligence by Steven Struhl
Language: English | 2015 | ISBN: 0749474017 | 272 pages | PDF (conv.) | 6,3 MB
Bridging the gap between the marketer who must put text analytics to use and the increasingly rarefied community of data analysis experts, Practical Text Analytics is an accessible guide to the many remarkable advances in text analytics that specialists are discussing among themselves. Instead of being a resource for programmers, a book on theory or an introduction on how to use advanced statistical programs, this daily reference resource cuts through the profusion of jargon, evaluating the strengths and weaknesses of various methods and serving as a guide to what is credible in this fast-moving and often confusing field.
Practical Text Analytics provides guidance on the application of text analytics for marketing professionals who must interpret the results and apply them in their campaigns. It presents the process of analysis in ways that people who use the data need to see them, helping marketers to clarify and organize confidently the confusing array of methods, frame the right questions and apply the results successfully to find meaning in any unstructured data and develop powerful new marketing strategies.
About the series: The Marketing Science series makes difficult topics accessible to marketing students and practitioners by grounding them in business reality. Each book is written by an expert in the field and includes case studies and illustrations enabling marketers to gain confidence in applying the tools and techniques and in commissioning external research.