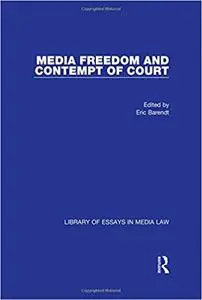 Eric Barendt, "Media Freedom and Contempt of Court "
English | ISBN: 0754627853 | 2016 | 502 pages | PDF | 29 MB
The essays discuss the restrictions imposed by contempt of court and other laws on media freedom to attend and report legal proceedings. Part I contains leading articles on the open justice principle. They examine the extent to which departures from that principle should be allowed to protect the rights of parties, in particular the accused in criminal proceedings, to a fair trial, and their interest in being rehabilitated in society after proceedings have been concluded. The essays in Part II examine the topical issue of whether open justice entails a right to film and broadcast legal proceedings. The articles in Part III are concerned with the application of contempt of court to prejudicial media publicity; they discuss whether it is possible to prevent prejudice without sacrificing media freedom. Another aspect of media freedom and contempt of court is canvassed in Part IV: whether journalists should enjoy a privilege not to reveal their sources of information.
Read more