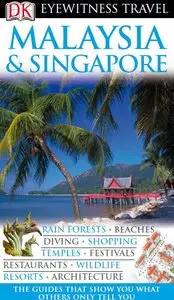 DK Publishing "Malaysia and Singapore (Eyewitness Travel Guides)"
DK Travel | English | 2007-12-17 | ISBN: 0756628350 | 352 pages | PDF | 85 MB
Summary: Good guide
This is a decent guide but I would definately purchase another guide to supplement it. I went on a trip to Kuala Lumpur( I just returned last night) and I took this guide as well as the Lonely Planet Kuala Lumpur guide and they were great together. I did use my LP guide a lot more, but this one does include a lot of good information about all the different sights.
Summary: A great book, but probably too big for just Singapore
This is a great book- full of interesting information, gorgeous photos, and travel tips. We just went to Singapore and it was useful, along with the Groovy MAP 'N' GUIDE SINGAPOREand Fodor's Singapore's 25 Best, 3rd Edition (25 Best).
The only downside is the size. While small enough to carry in a bag, it's not THAT small- and the section on Singapore is relatively smallcompared to the malaysia section. Overall, while I'm happy I bought it, the other 2 books went with me around town, while this one stayed in the hotel.
To start download click HERE: