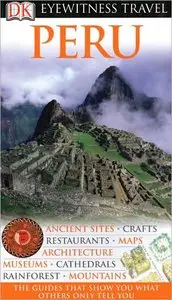 DK Publishing "Peru (Eyewitness Travel Guides)"
DK Travel | English | 2008-05-05 | ISBN: 0756636450 | 353 pages | PDF | 129 MB
Whether you are planning to visit a city, a region or a country, DK's foolproof 'Eyewitness' approach makes learning about a place a pleasure in itself. All the traditional guidebook subject matter is covered-descriptions of sights, opening times, hotels, restaurants, shopping, entertainment, phrase books etc- but, with the help of specially commissioned illustrations and maps, DK makes essential information easy to access and quick to absorb. No other guides explain the history of a place as clearly in words and pictures. DK Eyewitness Travel Guides-the best guides ever created.
Continuing to expand our South American coverage, this beautifully illustrated Eyewitness guide will be the premier travel book to Peru, with complete coverage of Lima, the Amazon Basin, and, of course, Machu Picchu. Whether your interests lie in floating on Lake Titicaca, watching the condors soar at Colca Canyon or experimenting with South American cuisine, DK Eyewitness Peru will help you find the essence of the Andes.
It is packed with photographs, illustrations, and maps.
Provides an In-depth look at the Inca Trail and Amazon Jungle
Shows cutaways and floor plans of all the major sights
Lists a huge selection of hotels and restaurants
Lists sights, museums, markets, and festivals town-by-town
Provides street-by-street walks and thematic tours
Just opening the book entices the reader into exploring Peru in great
detail - and with such incredible photos! The book shares Ancient sites,
crafts, restaurants, maps, architecture, museums, cathedrals, rainforests,
mountains - it is TRULY a guide that shows you what others only tell you.
To start download click HERE: