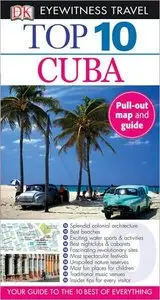 DK Publishing "Top 10 Cuba (Eyewitness Top 10 Travel Guide)"
DK Travel | English | 2008-09-01 | ISBN: 0756639336 | 128 pages | PDF | 26,5 MB
Drawing on the same standards of accuracy as the acclaimed DK Eyewitness Travel Guides, The DK Top 10 Guides use exciting colorful photography and excellent cartography to provide a reliable and useful pocket-sized travel. Dozens of Top 10 lists provide vital information on each destination, as well as insider tips, from avoiding the crowds to finding out the freebies, The DK Top 10 Guides take the work out of planning any trip.
Long known for its isolation from the Western world and its precarious relationship with the USA in particular, the last decade has seen Cuba emerge as one of the top tourist destinations in the Caribbean. Even though the country remains staunchly Communist, Cuba is a nation that understands the commercial power of rebranding and has reinvented itself as the home of sun, salsa and rum with a unique blend of chutzpah and a casual manner that capitalizes on the Cuban character.
To start download click HERE: