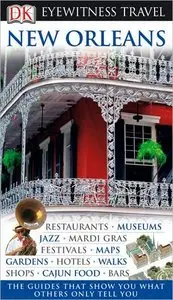 Marilyn Wood "New Orleans (Eyewitness Travel Guides)"
DK Travel | English | 2008-11-03 | ISBN: 0756639522 | 248 pages | PDF | 56 MB
Whether you are planning to visit a city, a region or a country, DK's foolproof 'Eyewitness' approach makes learning about a place a pleasure in itself. All the traditional guidebook subject matter is covered-descriptions of sights, opening times, hotels, restaurants, shopping, entertainment, phrase books etc- but, with the help of specially commissioned illustrations and maps, DK makes essential information easy to access and quick to absorb. No other guides explain the history of a place as clearly in words and pictures. DK Eyewitness Travel Guides-the best guides ever created.
Following Hurricane Katrina, New Orleans is back. The city has fought back with a vengeance and in 2007 drew record crowds to many of its festivals. For example, the 2007 French Quarter Festival celebrated its 24th year with a record crowd of over 450,000. The 2007 Mardis Gras drew over 800,000 and hotels reported a 95% occupancy rate. There are now over 140 major hotels open with near pre-Katrina numbers of rooms available. Nearly 100% of French Quarter and main tourist areas have reopened. Most major airlines have added flights to New Orleans over the past year. New Orleans remains one of the most visited US cities and the new DK Eyewitness Guide to New Orleans is timed perfectly to the city's resurgence.
To start download click HERE: