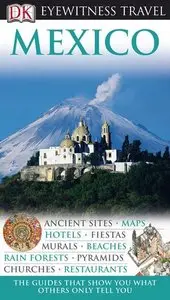 Marlena Spieler, "Mexico (Eyewitness Travel Guides)"
D K Tra vel | 2010 | ISBN: 0756661838 | 408 pages | PDF | 31,2 MB
Mexico is a heady sort of place; it inundates you with sights, sounds, smells, tastes, and tactile sensations. A dry text, no matter how informative, just doesn't do justice to Mexico's allure. DK's Eyewitness Travel Guide series, on the other hand, does. Sure, it provides the necessary data points. The "Travelers' Needs" section contains 168 recommended hotel options and another 168 restaurants–as well as a beautifully illustrated guide to the foods of Mexico. And there are pages of practical information on visas, health precautions, time zones, electricity, taxis, security, banking, communications, and the like.
But DK's guide provides far more inspirational than a mere collection of data. The two-page glossy color map of Mexico is not just clear and easy to understand, it's beautiful. The hundreds of color photographs throughout the book are exquisite, depicting the sere hilltop archeological site of Monte Albán, fishermen preparing nets on a Yucatán beach, the vibrancy of a fruit market in San Cristóbal de las Casas, the green lushness of the wetlands, the scrub of the Sonora desert, and the intense vegetation of the Tehuantepec rainforests. There are 3-D aerial-view layouts of towns and ancient sites, cutaways and floor plans for churches and pyramids, as well as wonderful explanatory texts for each region, delving into history, traditions, sights, fiestas, foods, music, and activities. DK's is a guide book that is actually a pleasure to use–one that adds excitement to the necessary task of planning your vacation. –Stephanie Gold
Download