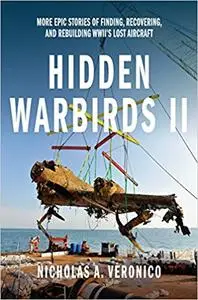 Nicholas A. Veronico, "Hidden Warbirds II: More Epic Stories of Finding, Recovering, and Rebuilding WWII's Lost Aircraft"
ISBN: 0760346011 | 2014 | EPUB | 256 pages | 18 MB
The continuation of World War II's most intriguing new aviation series.
In Hidden Warbirds II, the engaging follow-up to the critically acclaimed Hidden Warbirds, aviation historian Nicholas A. Veronico further explores the romantic era of World War II warbirds and the stories of some of its most famous wrecks and recoveries. The long-long aircraft featured in this much-anticipated sequel include the Dotty Mae, a P-47 rescued from a lake in Austria; a Hawker Tempest being restored in Texas; and a Junker 88 recovered from the icy waters of Norway. Throughout the book, Veronico provides a history of each aircraft, as well as the unique story behind each discovery and recovery, all accompanied by incredible documentary photographs. With over 150 of these photographs, depicting more than 20 warbird stories spanning the world, Hidden Warbirds II triumphantly continues a nonfiction series that renowned military author Alan Griffith calls "a fascinating joy to read."