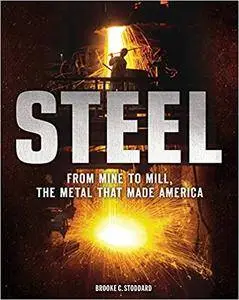 Brooke C. Stoddard, "Steel: From Mine to Mill, the Metal that Made America"
ISBN: 0760347425 | 2015 | EPUB | 304 pages | 31 MB
Steel provides the backbone for modern civilization - read all about its history, journey, and place in the world.
What is steel? How does it work? Why has it been so important? Who are the people who make it? How do they make it? Steel: From Mine to Mill, the Metal that Made America answers these questions.
Improperly understood until about 150 years ago and available until then only in small quantities, the metal itself is a delicate dance of iron crystals interspersed with carbon and - depending on intended service - other elements such as nickel, chromium, and molybdenum. Once deciphered, steel began to flow from hearths in increasing amounts for the building of railroads, steel ships, skyscrapers, and bridges, in the process raising to world economic dominance Great Britain, Germany, the United States, Japan, and the Soviet Union. The world's current largest producer is China.
While researching this book, author Brooke C. Stoddard descended into Mesabi Iron Range open-pit iron mines, rode with 58,000 tons of iron ore on a 1,000-foot ore boat from Duluth to Cleveland, climbed to the top of the hemisphere's largest blast furnace, interviewed men as they toiled next to their furnaces of liquid steel, and walked the immense rolling mills where steel is pressed into finished products.
Along the way, he wrote a narrative of iron and steel from pre-history through the Industrial Revolution and into the present age.
Steel is the sinew of modern civilization.