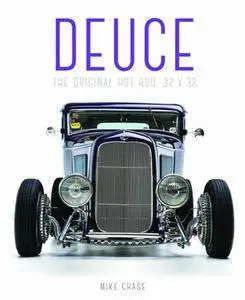 Deuce: The Original Hot Rod: 32x32 by Mike Chase
English | 2016 | ISBN: 0760351856 | 224 pages | PDF | 95 MB
They certainly don't make 'em like this anymore. We're talking about the car that launched the hot rod subculture: Ford's 1932 Deuce. With its stylish lines, timeless grille, and flowing fenders, Ford's Deuce coupe pretty much defines the term "hot rod." The breadth of creativity this classic design has inspired for generations of hot rod builders is on full display in Deuce.
Ford's '32 was an immediate hit. By 1931, the Model A was obsolete in a marketplace where drivers wanted more style and power. The design goals for the '32 Ford could be summarized as "more": more cylinders, more horsepower, and more style. The resulting car achieved its objectives and then some. It was faster, more comfortable, more refined - a masterpiece of industrial design, yet still affordable. Henry Ford and his design team got it right.
As the Deuce transitioned to the used car market, it drew the attention of those with a need for speed. Stripped down with an emphasis on performance, the Deuce became the bedrock of the burgeoning hot rod movement. To this day, it very much defines what a hot rod should look like. Hot rodders took Henry's master stroke to a whole other place, and Deuce stands as a tribute to their ongoing ingenuity.