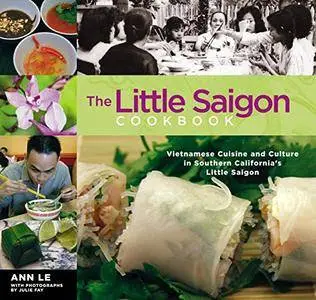 The Little Saigon Cookbook: Vietnamese Cuisine and Culture in Southern California's Little Saigon by Ann Le
English | 2006 | ISBN: 0762774495, 9780762774494, B0026Q809Y | 224 Pages | MOBI | 4.21 MB
There's a rule savvy diners seeking the ultimate in ethnic authenticity always follow: Eat where the locals eat. The Little Saigon Cookbook takes you inside the local restaurants in Southern California's Little Saigon, the site of the largest single population of Vietnamese outside of Vietnam. From the French-inspired bakeries, the lunch delis, and the food courts to the weekend mayhem of the Pho house and wedding receptions at the boisterous seafood restaurants, these are the extraordinary meals that Vietnamese diners and others in the know enjoy every day. The Little Saigon Cookbook offers dozens of family recipes, many surviving through oral history alone. It takes readers on a tour of culinary landmarks and introduces them to the wealth of authentic dishes found in Little Saigon―from the hot and crispy Vietnamese crepes down Bolsa Avenue to the crunchy, tangy chicken and cabbage goi salad from the Asian Mall.