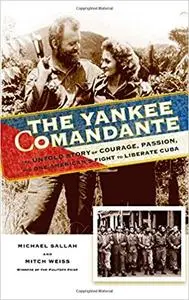 The Yankee Comandante:
The Untold Story of Courage, Passion, and One American's Fight to Liberate Cuba
by Michael Sallah
English | 2015 | ISBN: 0762792876 | 288 Pages | EPUB | 5 MB
William Morgan, a tough-talking ex-paratrooper, stunned family and friends when in 1957 he left Ohio to join freedom fighters in the mountains of Cuba. He led one band of guerrillas, and Che Guevara another, and together they swept through the country, ultimately forcing corrupt dictator Fulgencio Batista from power. In just a year of fighting, the American revolutionary had altered the landscape of the Cold War. But Morgan believed they were fighting to liberate Cuba. Then Fidel Castro canceled elections, seized properties, and imprisoned Morgan's fellow freedom fighters. Even Morgan's own house mysteriously blew up.