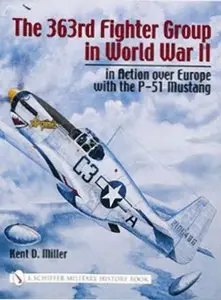 The 363rd Fighter Group in World War II in Action over Europe with the P-51 Mustang By Kent Miller
Publisher: Schiffer Publishing 2002 | 193 Pages | ISBN: 076431629X | PDF | 56 MB
This is the story of a 9th Air Force fighter group which was active in Europe during World War II. The 363rd flew in combat for seven months until the rapid advance of Allied ground troops necessitated the group becoming a Tactical Re-con unit. The 363rd Fighter Group was the third Army Air Force unit in England to be equipped with the P-51 "Mustang", and early missions saw the pilots used as escort for the heavy bomb­ers of the 8th Air Force. With the invasion of France in June of 1944, the 363rd\s activities turned to a more tactical nature, in keeping with the overall 9th Air Force mission in Europe. This change also meant the group was used in a more defensive role-covering the ground forces' advance, protecting supply lines, shipping ports, etc. As such, their chances of meeting enemy aircraft, especially in July and August of 1944, were slim. Due to their low victory to loss ratio (approximately 1:1) the 363rd has earned a negative reputation. But. when looking at the mission given to the group, especially from June on­wards, this criticism is without merit. One has to keep in mind, as well, that losses included in this ratio are from all causes, not just plane-versus-plane combat.
NO PASSWORD



!!!No Mirrors below, please! Follow Rules!