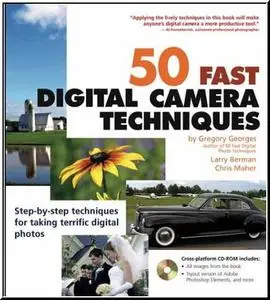 50 Fast Digital Camera Techniques (50 Fast Techniques Series) by Gregory Georges (Author), Larry Berman (Author), Chris Maher (Author)
Publisher: Wiley; (March 17, 2003) | ISBN-10: 076452500X | PDF | 12,6 Mb | 352 pages
It cuts to the chase with how to get great animal, wedding, nature, people etc,..shots. It explains in detail what settings you should use for each shot as well as what settings the pros use for all the great magazine photos. I flip through this book about every week just for a refresher. I also take this book along with me in my camera bag too.