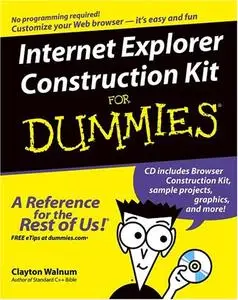 Clayton Walnum, "Internet Explorer Construction Kit For Dummies"
English | 2004 | ISBN: 0764574914 | PDF | pages: 381 | 8.8 mb
You've heard the saying, "If you want something done right, do it yourself." Actually, most Internet browsers are done right. Chances are, you're comfortable with yours. Yet, you may want to build your own. You don't have to start from scratch—you can start with the Browser Construction Kit on the CD-ROM that comes with Internet Explorer Construction Kit for Dummies. Best of all, there's no programming required.
Whether you personalize your browser or build one just for your business, you can include features and functions not available with traditional browsers, including:
- Log file: a list of all Web sites visited
- Alarm: an audible or popup alarm that signals the end of the time period used with the countdown timer
- Lock: prevents the custom browser from further browsing
- Approved list: list of Web sites to which browsing is limited
- Spy: screen captures taken once a minute
- Popular sites: a list of the most-visited sites
You can make your browser G-rated. That's great if you have curious kids and are concerned about adult sites and Internet safety or simply want to limit their browsing time. The ability to limit access to specific sites also comes in handy if you own a business and want customers in your store to be able to browse your online catalog, but not to comparison shop!
Written (and more importantly, programmed) by Clayton Walnum, author of Standard C++Bible and many other computer books, Internet Explorer Construction Kit For Dummies takes you step-by-step through:
- Adding borders to give your browser a graphical theme
- Using window skin to add an image to your window's background
- Making the bar scene —assembling the toolbar, designing the menu bar, pulling together the status bar, and customizing the address bar
- Creating buttons and icons
In addition to your Browser Construction Kit, the bonus CD-ROM includes several sample projects you can create, sample graphics for creating custom buttons and skins, and an evaluation version of Paint Shop Pro8 so you can get down to work. You even have everything you need to create a browser with themed graphics, choosing from animal, art, music, sea, sports, or more.
Have fun creating your own personalized, custom-built browser. That way, it will be done just right for you!