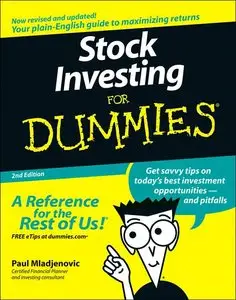 Paul Mladjenovic "Stock Investing for Dummies"
Wiley | English | January 2006 | ISBN: 0764599038 | 336 pages | PDF | 6,3 MB
Stock Investing For Dummies, 2nd Edition covers all the proven tactics and strategies for picking the right stocks. Packed with savvy tips on today's best investment opportunities, this book provides a down-to-earth, straightforward approach to making money on the market without the fancy lingo. Soon you'll have the power to optimize your returns by:
• Recognizing and minimizing the risks
• Gathering information about potential stocks
• Dissecting annual reports and other company documents
• Analyzing the growth and demand of industries
• Playing with the politicians
• Approaching uncertain markets
• Using corporate stock buybacks to boost earnings
• Handling the IRS and other obligations
With a different strategy for every investor—from recent college grad to married with children to recently retired—this valuable reference is a must-have. It also features tips and tricks on how to tell when a stock is on the verge of declining or increasing, how to protect yourself from fraud, and common challenges that every investor must go through, along with resources and financial ratios.
The Dummies way to score big in the stock market Stock Investing For Dummies, Second Edition covers the basics of investing for individuals and households that want to watch their savings grow. Simple, straight-forward, and honest, this friendly guide covers all the categories of stocks, teaches readers how to analyze stocks, and offers invaluable resources for developing a portfolio. Investing consultant Paul Mladjenovic offers wise advice and proven tactics for beginners who want to get in the game without risking their shirts. Whether the market is up or down, readers will benefit from sound, practical investing strategies and insights that have helped generations of investors profit from the markets. Paul Mladjenovic (Englewood Cliffs, NJ) is the owner of PM Financial Services and a Certified Financial Planner and investing consultant with nineteen years of experience in investing.
To start download click HERE: