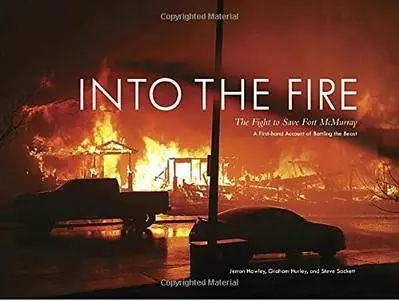 Into the Fire: The Fight to Save Fort McMurray by Graham Hurley, Jerron Hawley, Steve Sackett
English | 2017 | ISBN: 077103928X | 160 pages | EPUB | 200 MB
The dramatic story of one of the biggest natural disasters in Canadian history, the Fort McMurray wildfire of 2016, told by three of the firefighters who fought to save the city.
On May 1, 2016, a wildfire burning to the southwest of Fort McMurray, Alberta, led to the declaration of a local state of emergency. Two days later, the fire had reached Fort McMurray, forcing the evacuation of 88,000 citizens and destroying 2,400 buildings. In total, the fire would consume more than 500,000 hectares.
Into the Fire is a remarkable first-hand account of fighting a major wildfire as it moved with terrifying speed. Over the course of six days, firefighters Jerron Hawley, Graham Hurley, and Steve Sackett of the Fort McMurray Fire Department joined local expert wildfire teams and fire departments from across the country to battle the blaze. In photographs and notes made at the time, they vividly describe what they witnessed; their own personal losses and triumphs; and the fire's devastating effects.
With more than 90 stunning colour photographs, Into the Fire is a dramatic eyewitness account of one of the most catastrophic disasters in recent North American history. Intimate in its telling, it is above all a testament to the courage, pride, and extraordinary efforts of the citizens of Fort McMurray, who along with emergency personnel, came together to save their city.