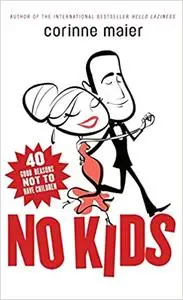 Corinne Maier, "No Kids: 40 Good Reasons Not to Have Children"
English | 2009 | ISBN: 0771054777 | 136 pages | EPUB | 0.38 MB
The shocking treatise that was a bestselling international media sensation upon its 2007 publication in France now makes its eagerly anticipated English-language debut.
A mother of two herself, Maier makes her deadly serious, if at times laugh-out-loud-funny, argument with all the unbridled force of her famously wicked intellect. In forty to-the-point, impressively erudite chapters drawing on the realms of history, child psychology, politics, and the environment, Maier effortlessly skewers the idealized notion of parenthood as a natural and beautiful endeavour. Enough with this "baby-mania" that is plaguing modern society, says Maier, it's nothing but brainwashing. Are you prepared to give up your free time, dinners with friends, spontaneous romantic getaways, and even the luxury of uninterrupted thought for the "vicious little dwarves" that will treat you like their servant, cost you hundreds of thousands of dollars, and end up resenting you?
Speaking to the still "child-free", to fellow suffering parents, and to adamant procreationists alike, No Kids is a controversial, thought-provoking, and undeniably entertaining read.
Reasons to avoid having kids:
•You will lose touch with your friends
•Your sex life will be over
•Children cost a fortune
•Child-rearing is endless drudgery
•Vacations will be nightmares
•You'll lose your identity and become just "mom" or "dad"
•Your children will become mindless drones of capitalism
•The planet's already overcrowded
•Your children will inevitably disappoint you