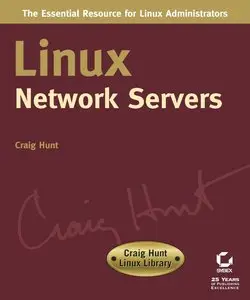 Craig Hunt, "Linux Network Servers"
2002 | pages: 492 | ISBN: 0782141234 | PDF | 6,4 mb
Linux is here to stay, and Linux Network Servers provides the skills and information needed to take advantage of all this operating system has to offer. Linux may not have toppled Windows on the desktop, but it has secured a place in IT infrastructures as an economical and practical network server, able to support a wide variety of services, including the Web, FTP, e-mail, DNS, printer sharing, and file sharing. This update to the best-selling Linux Network Servers: 24seven is a perfect addition to the highly-acclaimed Craig Hunt Linux Library, the goal of which is to Linux administrators with focussed guidance on complex tasks involved in managing Linux in the real world. Hype-free, this book offers clear and concise explanations on turning a machine running Linux into a reliable, high-performance supporter of network services. The author, renowned Linux authority Craig Hunt, has updated the book to cover the latest Linux kernel, 2.4 and added new insights and perspectives regarding the robust new role that Linux is serving in IT.
My Links